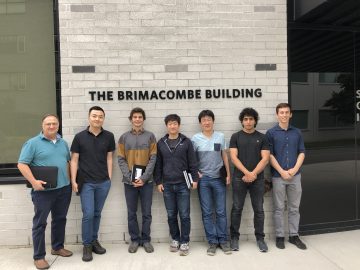 Since the last decade, two-dimensional (2D) crystal materials with atomic thickness, such as graphene and metal chalcogenides (MCs), have become a broad playground where the interface effects and quantum confinement can lead to substantial modifications in their electronic and magnetic ground states. Novel physical phenomena often emerge when stacking or growing the 2D materials on various substrates, or imposing quantum confinement in the lateral or vertical dimension, which can be further controlled by external gating.
Research on new materials and functional devices has led to changes in our daily life for the past several decades. We aim to achieve scientific and technological breakthroughs utilizing such high tunability of the properties of the 2D crystals. This program will integrate molecular beam epitaxy (MBE) synthesis with nanostructure fabrication and characterization techniques for physical and electronic structures to explore and control the generated properties in new materials and in new forms of materials, such as in heterostructures and gated field effect transistors (FETs). A cluster system at Stewart Blusson Quantum Matter Institute, which combines an oxide MBE, a MC MBE, and an angle-resolved photoemission spectroscopy (ARPES) system, is dedicated to the proposed research program.
Publications:
Roemer, C. Liu, and K. Zou, "Robust ferromagnetism in wafer-scale monolayer and multilayer Fe3GeTe2", npj 2D Materials and Applications, 4, 33 (2020).
Shin, C. Liu, F. Li, R. Sutarto, B.A. Davidson, and K. Zou, "Controlling the electrical and magnetic ground states by doping in the complete phase diagram of titanate Eu1− xLaxTiO3 thin films", Physical Review B, 101, 214105 (2020).
Liu, and K. Zou, "Tuning stoichiometry and its impact on superconductivity of monolayer and multilayer FeSe on SrTiO3", Physical Review B: Rapid Communications, 101, 140502(R) (2020).
Peng, K. Zou, M. G. Han, S.D. Albright, H. Hong, C. Lau, H. C. Xu, Y. Zhu, F.J. Walker, C.H. Ahn, "Picoscale structural insight into superconductivity of monolayer FeSe/SrTiO3", Science Advances, 6, 15, 4517 (2020).
Li, B.A. Davidson, R. Sutarto, H. Shin, C. Liu, I. Elfimov, K. Foyevtsova, F. He, G.A. Sawatzky, and K. Zou, "Epitaxial growth of perovskite SrBiO3 film on SrTiO3 (001) by oxide molecular beam epitaxy", Physical Review Materials: Rapid Communications, 3, 100802(R) (2019).
K. Zou, S.D. Albright, O. Dagdeviren, M.D. Morales-Acosta, G.H. Simon, C. Zhou, S. Mandal, S.I. Ismail-Beigi, U.D. Schwarz, E.I. Altman, F.J. Walker, and C.H. Ahn, "Revealing surface-state transport in ultrathin topological crystalline insulator SnTe films", APL Materials, 7, 051106 (2019).